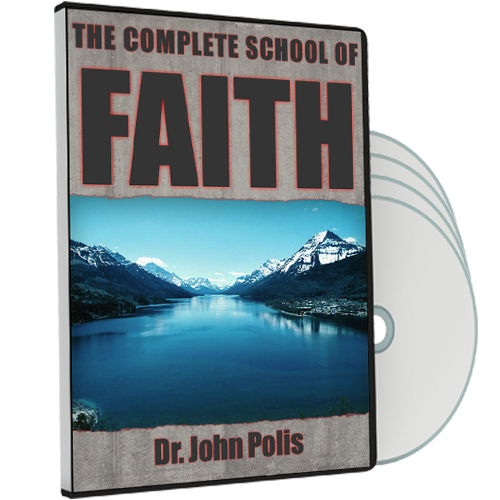 The Complete School Of Faith
Regular price $ 49.00 Sale
YOU CAN ALSO TAKE THIS COURSE ONLINE CLICK HERE
TOPICS INCLUDE: What Faith Is, How Faith Comes, Believing with the Heart, Doubt in the Heart, Fully Persuaded Faith, The Gift of Faith, The Sixth Sense, Destroying Things That Are Not, Faith & Patience, What You Say Will Save You, and more.
Enjoy 13 sessions of a special anointing God poured out upon Dr. John as he ministered prophetically on the subject of faith. Receive revelation and an impartation of the spirit of faith
Over 10 hours of video with syllabus included.
---
TESTIMONY
Pastor Tracy Fannin
EndTime Harvest Church - Morehead, Ky.
It is my pleasure to highly recommend the series "Faith" by Apostle John Polis. We used the series as a supplement to our Wednesday night services. This series brought about a great expectation in our congregation; they were very excited to receive the teachings and even more excited to apply the teachings that Dr. John had laid out. At the close of our sessions, we launched into a four day revival. The house was packed. We witnessed healings, deliverances, prodigals returning, and lost saved!! Faith was activated and acted upon.

I have been a minister of the Gospel for over 50 years. I thank God for men like Dr. John Polis who are not afraid to step forward and stand boldly to proclaim this supernatural Faith teaching, in spite of the critics and naysayers. The teaching was both insightful and applicable. The series "Faith" is full of powerful teaching that will build up and encourage people everywhere to believe that all things truly are possible to them that believe in His Name!