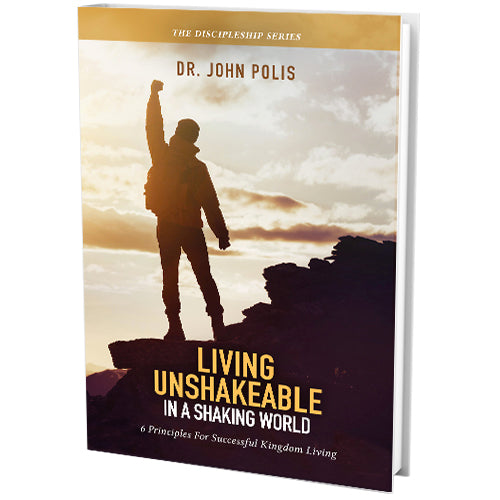 Living Unshakeable In A Shaking World
Regular price $ 10.00 Sale
THIS BOOK IS ALSO AVAILABLE ON AMAZON PAPERBACK
LIVING UNSHAKEABLE IN A SHAKING WORLD God says in Hebrews 12:25-29 that the Kingdom of God is unshakeable and all that are walking in Kingdom principles will be unshakeable as well. The kingdoms set up by man and devils will be brought into subjection to the Kingdom of God. Everything that's not derived from or attached to the kingdom of God will eventually perish, it will fall away, but the Bible says "we have received a kingdom which cannot be shaken."
Follow the Right People
Feed Your Faith
Find Your Purpose
Forsake Sin
Fit Into The Body Of Christ
Fix Your Heart
The BE STRONG IN THE LORD: Discipleship Series contains handpicked books written by John Polis that are designed to help you grow in spiritual maturity as you follow Jesus Christ and learn to apply the Word of God to your life. In this resource, you will receive revelation knowledge of key principles enabling you to survive and thrive during the worst storms of life. This resource is great for personal devotion time and/or small group studies.
If you desire to use this for small group study, it will work best if everyone in the group has their own book to answer and grow through together.
HOW TO USE THIS RESOURCE: This discipleship resource, LIVING UNSHAKEABLE IN A SHAKING WORLD, is designed to be used over a SIX- WEEK period. Each week has several elements that will help you get the most out of the subject being discussed. Here are the elements and a brief description of each.

READ: Day one of every chapter has a reading portion. This introduces and provides scriptural support for the topic.
INSIGHT: Also on day one, an INSIGHT question is presented for reflection and application.
WATCH: 

Day two of each chapter there is a video from the author, Dr. John Polis. He briefly shares more on the topic of the chapter. Videos can be viewed by going to johnpolis.com, clicking on

DISCIPLESHIP SERIES

on the main menu.

MEMORIZE: Day three of each chapter, you will learn the related scripture through writing, MEMORIZATION, and sharing it with a friend. The Word of God must be one of the highest priorities for a follower of Jesus!
ACTION STEP: Day four of each chapter, there will be a question that will help you put action to what you have been learning.
TRANSFER: Day five of each chapter, you will write a brief summary of what God has shown you throughout the week, and then you will choose one person to share it with.
REFLECTION: 

Day six of each chapter, review your previous responses and REFLECT over what God has shown you throughout the topic study. Include any results of your ACTION STEP. As leadership expert John Maxwell says,

"Experience is not the best teacher, evaluated experience is".
IF YOU HAVE ALREADY PURCHASED THIS RESOURCE YOU VIEW THE ACCOMPANYING VIDEOS HERE.